Services
LTL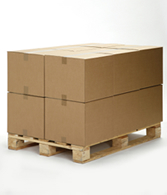 Managing LTL carriers and providing LTL brokerage is a specialized field in itself. Transact pools an ever growing tonnage schedule to negotiate aggressive pricing for our clients. Very often the collective tonnage of our clients under management is greater than the tonnage most shippers can negotiate with alone. This gives us a competitive advantage in pricing and the ability to market this pricing as a single sourced provider.
As these contracts are entered into our system, clients can rate their shipments effortlessly. LTL shipments are entered into the Transact portal which accepts all of the standard EDI sets where your loads are automatically updated from pickup to delivery by the carriers themselves. Want to optimize your LTL shipments? Looking for possible load consolidations that will save you money? Run our optimizer and see the results. Better yet, allow Transact to pull your LTL into our system and optimize along with our other clients. This consolidated optimization often reveals consolidations which fit into our truckload partner's parameters and your LTL shipments get routed as stops on a truckload carrier saving you money and providing faster service.
Talk to us to learn how our experts in the LTL business can really help you.